I have never been particularly enthusiastic about DIY. I like planning projects and deciding how rooms will look but would really rather pay someone else to complete the work for me. Sadly I usually lack the budget to this which probably explains why my house was left untouched for years. I had got used to its rather tired décor and just put up with it. Then a couple of years ago a good friend was about to move into the spare bedroom and I thought it was time for a face lift. Somehow the desire to redecorate that one room turned into the need to tackle the whole house!
Escalation
It is funny how once you start on a revamp things just spiral out of control. My original plan for the spare bedroom was simply to paint the walls and replace the furniture but things quickly escalated to demolishing the fitted wardrobes and replacing the flooring. I then figured that if I was going to install a wood floor in there then I might as well do the whole house. That meant taking off all of the skirting boards and so it seemed logical to redecorate every room whilst I was about it!
Demolition
What followed was weeks of demolition! The fitted cupboards in the master bedroom were ripped out soon after those in the spare room. Then I decided to create a walk in wardrobe using the fourth bedroom which entailed knocking a hole through the wall and building a door. I didn't like the Artex ceilings in the house so they were removed and re-plastered.  Then there was a huge amount of painting to do.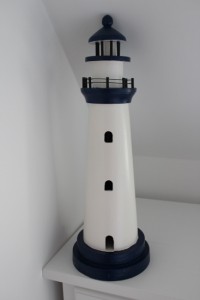 Finishing Touches
Whilst all this was going on I had to choose new furniture for two bedrooms and the living room. I had to find new bed linens and also a raft of accessories and finishing touches to complete the look. This was more difficult than I thought it was going to be. Some pieces were easy to source but then others were a major mission. It is so annoying when you have decided what you want and then simply cannot find it. I had a devil of a job sourcing a wooden lighthouse for the now nautically themed spare room and then there was the artwork for the walls.
I looked at thousands of pictures and wall sculptures to find the right pieces for the master bedroom and the living room.  Eventually I found some wonderful prints for both rooms on art.com and a stunning Artisan House wall sculpture to add a focal point but the search was taking up so much of my time. The DIY work had virtually taken over my life! I was tired and sick of the disruption and delighted when the rooms were complete. I awarded myself a break but a few months later I ordered a new kitchen and endured another two months of hell scraping the ceiling, decorating and having the thing installed.
Enthusiasm Failure
I still haven't tackled the dining room and my home office and am trying to summon the enthusiasm to get going again. It is so disruptive and such hard work! I have resolved that in the future I will tackle one room at a time over a longer period or save earnestly so I can pay someone else to take the strain because I really don't think I could do it all again. I am still picking Artex and plaster out of my ears and expecting to find the microwave in the living room where it resided whilst the kitchen was being done. Never again!
Article by Sally Stacey