Every era produces new ideas in interior décor and in modern times our tastes have begun to change more and more rapidly. Little longer than a decade can pass and suddenly we are all wincing at our homes and wondering what on earth we were thinking of. Even so many trends resurface years later and are in vogue again but few styles have remained so seemingly timeless and consistently in favour as Art Deco. Certainly not coloured bathroom suits or textured ceilings!
Origins
The Art Deco style first emerged in the 1920's. The stylistic features we now associate with this artistic movement first appeared in France but the trend quickly spread across the globe. Art Deco is a magnificent contradiction being both highly distinctive and yet really hard to define. Most of us can identify the architecture, fashion, interior décor and jewellery of the period and yet if asked to explain what characterises the style many of us would run into trouble.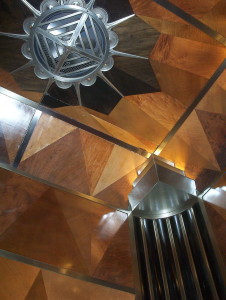 An Eclectic Style
Perhaps it is the eclectic nature of Art Deco which causes our minds such confusion. The style references historic artistic influences such as Art Nouveau but also traditional motifs, folklore and the imagery of the industrial age. These quite disparate elements were fused wonderfully into something new. The opulence of the 1920's was also a factor and so Art Deco is a wonderful marriage of period style, modernism and excess. What an irresistible cocktail!
Egypt and Opulence
The tendency towards opulence was doubtless partly the result of the discovery of Tutankhamun's tomb and the publicity surrounding Egyptian culture and riches. Tombs were packed full of gold artefacts which fascinated people and you can see Egyptian influence very much at play in Art Deco design. Art Deco was also characterised by other strong stylistic elements including bold geometric shapes, angular details, amazing colour contrasts and the juxtaposition of different materials such as polished wood and gilding. Stepped profiles, multiple facets, metallic elements and glamorous embellishments were also typical.  You can't mistake Art Deco but there are so many influences at play that what is visually a relatively simple style actually offers a great complexity and depth.
Art Deco fused heritage appeal with modern ideas and as a result evolved a classically elegant look which stills feels current today. Art Deco features can be seamlessly incorporated into both period and contemporary interiors to striking effect.  There is nothing quite like a gorgeous Art Deco Mirror to form a fabulous focal point in any room and the angles, facets, and imaginative use of materials make Art Deco pieces completely at home in even the most modern design schemes.
The Future
We may look back at certain periods of interior design with a degree of disdain but few people dislike the Art Deco Style. Of all the trends over the last century it is likely to be the one which continues to find favour and thus represents a great choice for any home. You are unlikely to fall out of love with Art Deco pieces and the rest of the world is unlikely to fall out of love with your home.
Article by Sally Stacey