I have always had a weakness for a bit of sparkle. Whilst I have never had any ambition to turn my home into an homage to glam rock or Barbie, I just have to feature a little sparkle here and there to add interest to an otherwise fairly measured contemporary interior. I do have a small glitter ball in my cloakroom. This is so subtle (if a glitter ball could be such a thing) that many people don't even notice it is there.  My hall, however, presented a more difficult problem as it hard to be subtle or tasteful with sparkle when it is the first thing that visitors see when you open the door.
Artistic Endeavour
My first thought was to add interest with art but I needed a mirror in the room to add light and the illusion of space. Having positioned a sizeable mirror on the only large expanse of wall there wasn't really room to hang a picture as well. As I perused the space for inspiration I cast my eyes through the living room door and caught sight of the eye-catching arrangement I had fashioned for that room. The display of gold twigs and leaves set off the room perfectly and gave me a great idea.
Small and Narrow
My hall does not feature any furniture as there really isn't anywhere to put even a modest table in the narrow room. The floor, therefore, was looking rather bare and clinical and so I decided that a tall vase with a floral arrangement was the obvious solution. I could break up the floor space and add interest at the same time and even a little sparkle.
A Weighty Issue
I found a great glass vase in a local shop and set off with enthusiasm to gather a collection of twigs, leaves and flowers in golds and coppers to create my display. It became obvious that none of the things I had managed to find had long enough stems for my vase so I had to come up with an attractive way of filling the vase so that my lovely leaves would sit at the right height. I found some gorgeous gold stones which would do the job perfectly but it was a little costly to fill a large vase with those and it would also make the thing so heavy that I wouldn't be able to move it!
I need something light that could be shaped to fit in the vase and then I could poor the stones around this. Floral foam seemed like the obvious solution. It is extremely light, you can cut it to shape and it is firm enough to support the weight of the stones and flowers.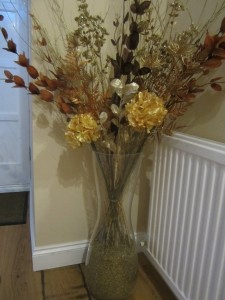 Sparkling Results
I spent a little time experimenting and then set to work building my arrangement. The whole plan worked a treat and the finished piece made a real difference to the hall adding colour, texture, form and sparkle to a previously bland and angular space. The best news of all is that the entire project cost only £60 to complete and it is totally unique to me. I might have to do another one!
Article by Sally Stacey